"Probably the greatest misperception is that youth who have been in the sex trade are choosing to participate in this experience. The combination of abuse, lack of attachments, and poverty allows our young people to be vulnerable to traffickers who are looking to exploit them," explains Samantha Alvarez Benowitz, Senior Director of Mental Health and Anti-Human Trafficking Services.
While no two stories are the same, most survivors that access CHNY's support has experienced sexual and physical abuse at a young age, have not established positive attachments to a caregiver, and/or have experienced poverty.
"It's not all physical abuse," adds Jayne Bigelsen, Vice President of Advocacy. "A lot of it is mental – mental control. Pimps find vulnerable youth and coerce them into illegal activities."
January is Human Trafficking Awareness Month and we spoke with the leaders of Covenant House New York's anti-human trafficking (AHT) department, to discuss the history of AHT at the organization and where the program currently stands.
As the largest provider of youth homeless services in NYC, it seemed apparent that there would be a need for AHT services on site. "After reviewing the numbers from our internal database, it was clear our previous intake questionnaire was not identifying youth who had been, or were currently being trafficked," says Bigelsen.
In 2013, CHNY connected with Fordham University and organized a research project involving 184 CHNY youth to help us better identify survivors among the youth we are serving. The research confirmed that CHNY's current system was insufficient and found that 14% of the surveyed youth fit the federal definition of severe forms of  human trafficking, defining it as "the unlawful act of coercing people in order to benefit from their work or service, typically in the form of forced labor or sexual exploitation." Another 8% were not technically forced, but they felt like they had no choice but to trade sex to meet basic needs. These findings were the catalyst for CHNY to develop a new system to combat human trafficking in our community.
In addition, Covenant House International surveyed sites in 12 cities and found on average, 20% of youth had lived experience with human trafficking.
Within two years, CHNY reimagined and built a new foundation for supporting survivors. The new programming is multilayered and includes:
Training all staff in the basics of understanding trafficking and working with trafficking survivors.
Extensive training for the mental health team to support the complex mental health needs of survivors.
A dedicated safe house for survivors to live. This therapeutic space provides survivors with safety, support, and individualized care.
Expanded programming in the main crisis shelter where survivors receive individualized attention to meet all service needs.
Anti-human trafficking legislative advocacy.
A survivor leader program, where survivors receive a stipend to work with our VP of Advocacy on issues that directly impact them.
"A large reason our program has been successful at supporting survivors is due to our wrap-around services (e.g., medical care, counseling, employment services) available at every program, no matter where they live," says Bigelsen.
CHNY is unique in that we offer AHT support on-site, allowing youth to access support without leaving their residence. CHNY's entire mental health team, consisting of 15 licensed mental health providers, receive training and coaching around working with the complex mental health needs of survivors.
"Many of our survivors have been diagnosed with or experience symptoms of PTSD as a result of their experiences. We work with survivors to help them identify symptoms that are negatively impacting their life, and to help them reduce these symptoms," explains Benowitz.
Bigelsen firmly believes survivors know best what they need and what must be done in the community to combat human trafficking. This led to creating a survivor-led internship program within the Advocacy department. The paid internship allows survivors to develop their skill-set for school or work – focusing on writing, public speaking, and research. The internship is flexible and allows interns autonomy to decide what type of work they wish to focus on and which issues matter to them most.
"One of my favorite aspects is our work on pending bills. This is an opportunity to speak out and explain why such bills matter and how it is going to impact our future, from a survivor's point of view," explained a survivor on the advocacy intern team.
The internship is an invaluable opportunity for survivors to become involved with advocacy through observing coalition meetings and gaining an understanding of legislation at the local and state level. One survivor testified before New York City Council, and another reached out to a district attorney in Texas to advocate for a fellow survivor. However, interest and comfortability vary, and no one is expected to share their story.
"Some don't want to share their story; they find it retraumatizing, whereas others find it empowering," says Bigelsen. "We respect and honor both decisions."
It's energizing to see how far AHT work at CHNY has come since 2013, but Benowitz acknowledges there is still room for improvement. "An area for growth is our work with male-identified survivors. We currently screen male-identified youth in all of our programs and provide trauma-informed therapy to male-identified survivors. In the next few months, we plan to implement psychoeducational groups around empowerment for male-identified survivors, as well as prevention groups for males. We hope by increasing services to this population; we will be able to better meet their needs."
A common question AHT advocates receive is how they stay optimistic in this line of work? "Through the resilience in our young people," says Bigelsen. "They want to be a force for good."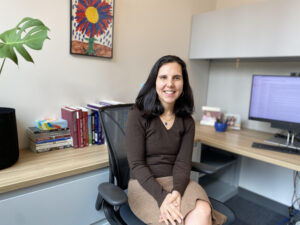 Samantha Alvarez Benowitz, Senior Director of Mental Health and Anti-HumanTrafficking Services.
_